This page is designed to give you a quick insight into Emma Lacey, from her professional experience to that of her personal journey with horses.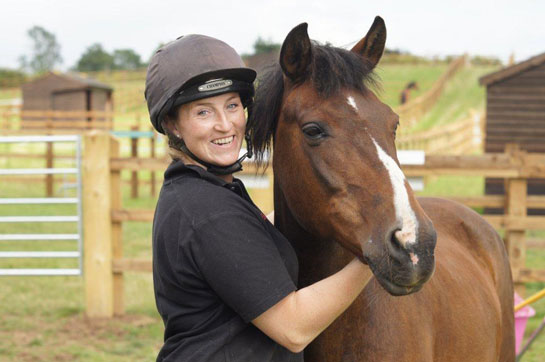 Her Work
Further to private training and consulting, Emma has been working in full time positions within the equine world for over a decade.
In 1999 she joined Calvert Trust as their Stable Manager and Instructor; working with disabled riders, training and managing staff, and running the yard. With ten horses, she had her hands full from day one, producing new horses to work well with their guests, and bringing on the old hands to reach their full potential. In just ten months Emma managed to both increase the centre's income and expand her team.
She headed to Surrey in March of 2000, and joined the staff at Cranleigh School as Stable Manager and Chief Instructor. Much like her role at Calvert Trust, Emma was responsible for the management and daily running of the yard, staff leadership and training, and schooling both students and horses. Cranleigh has an ambitious program for their riders, and event planning and management became another string to Emma's bow - as did fundraising; securing financial backing and sponsorship for the larger events.
Under her wing, the stables were expanded in 2002, and their profile was greatly increased, as was their income. Emma and her team proudly produced the top English Team at Hickstead Schools Championship in 2003.
After her success at Cranleigh, Emma returned to the Waveney area in 2005, and has worked for Redwings Horse Sanctuary since then, firstly as their first Re-homing Manager and since January 2011 as Sanctuary Farms Manager. Emma developed the re-homing department from its inception to its success today with over 500 horses and ponies in Guardian homes. Now Emma's focus is on the health and wellbeing of the 1200 + resident horses, ponies, donkeys and mules within Redwings at the four sites she oversees. Emma says "Working for Redwings has been rewarding and challenging and I love to be able to make a worthwhile difference to the equine population of the uk".
Her Qualifications
Emma holds plenty of qualifications, both academic and vocational. Her equine awards are:
• BS UKCC Level 3
• BHS Equitation Certificate – Instructor Riding
• BHS Intermediate Instructor
• Pony Club A Test
• RDA Senior Instructor
She also maintains her St. Johns Ambulance First Aid certificates, so you're in safe hands if you take a tumble or have an accident.
Her Horses
Emma Lacey was first put on a horse at the age of two, a 32 year old Shetland Pony called Bellinda - and jumped her first ditch six months later (and promptly fell off).
Falling off became a pastime when her Mum gave in to demands and bought Suzie, a 13.1hh Welsh Mare. Little did Suzie know that nine year old Emma had nerves of steel and determination to match, and she became the horse that taught her mistress how to stay in the saddle - a skill that Emma continues to demonstrate when conquering the most belligerent of steeds.
Just Magic, a 13.2hh Liver Chestnut Mare, joined the Lacey family when Emma had outgrown Suzie at the age of 12. With the heart of a lion, Magic taught her rider how to be competitive, and also demonstrated firm resolve - dragging the huntsman around Somerleyton Hall car park.
Two years later Magic had to retire, and Emma was given Night Mare, a 15.3hh Thoroughbred Mare who proved to be the most unpredictable horse Emma has ridden. She either won the class or wouldn't even get on the trailer to leave the yard. This taught her mistress two more important lessons; perseverance and when to 'call it a day'.
Not surprisingly, a year later Saxen Penny Gold was purchased as a replacement, a fabulous showing mare who could only walk and canter at rallies. She was the one who drove all of the Pony Club instructors to despair and wouldn't jump a stick for 18 months before finally grasping the concept. Penny's initial abjection to jumping forced Emma to be a more versatile rider, and she discovered Polocrosse, competing and having a great deal of fun all over the country.
When Penny retired, some very kind owners lent the 17 year old Emma Jim Jam and Maddie. They proved to be two very versatile horses; Jim went from polocrosse to elementary dressage in under a year, and Maddie went from 'Mothers Hack' to Area Horse Trials in a season.
(Maddie used to take-off two strides away from 'every' fence, giving Rose Hart and John Jacks many a heart stopping moment.)
Horace 'Decisive Spice', the ex-racehorse turned eventer, entered the Lacey stable two years later. Horace would literally jump anything, even if Emma didn't want to, the trait that had led a local racehorse trainer to sell him to Emma's Mum. A truly genuine horse, his other flaws could also be forgiven; hanging-out his tongue in dressage, and avoiding mud at all costs while hunting.
Horace provided emma with three of her most memorable moments on horseback. Firstly jumping a HUGE ditch with the Waveney Harriers Hunt, when the rest of the field had pulled up. Emma says, "I was being flagged down by Master John Ibbot, but I couldn't pull him up, so we took it. To this day I can remember the feeling … I was in the air for hours it seemed. We landed and rode away as if it was all in a days work". Later that year, at Hexham Horse Trials in Northumberland, Horace took a bullfinch double in a bounce, and the commentator was left speechless. Most significantly, he was the horse on which 'the penny dropped' - at a lesson with Captain Mark Phillips (who knows a thing or two about eventing). He stopped Emma in her tracks, and said "My girl, until you can communicate with this horse in front of a fence, you are not to event it again". That was the moment Emma realised that horsemanship wasn't all about luck.
When the formidable Horace retired Emma turned her attention from enjoying horses as a pastime to working with them as a profession. Since entering the world of the workaholic, Emma has produced many horses whilst building her career.
At the Calvert Trust (Kielder), Emma needed a driving pony that could double as an RDA pony. There followed a meeting at a windswept car park in Dumfries, not unlike a passage from an espionage thriller, Emma and her friend and colleague Karen Arthur were presented with an anonymous 14.1 Bay Gelding — sporting a somewhat roman nose. Karen rode him up the car park in a head collar and a saddle that happened to be in the back of the car; the old boy selling him quipped 'you'll have no problems there', and the gelding joined their happy crew.
Homeward bound, Karen and Emma settled on Cartman as a name for the new steed, inspired by a cartoon air freshener hanging from the rearview mirror. He became an instant hit, and took rather a shine to his new mistress — so much so that when she left Kielder he began to misbehave, and was soon transported to join Emma at Cranleigh (where he continues to work at the riding school). Cartman gave Emma many happy memories of hunting in the Jedburgh heather, ploughing through bogs as happily as crossing a lawn, and on one occasion taking a huge hedge with the Surrey Union flanked by Comex, William Funnel's old horse.
The move to Cranleigh, and the availability of the school's fabulous facilities, prompted the purchase of a four year old 16.1hh Irish Sport Horse called Lexy 'Little Earthquakes'. She was sharp from day one, and never lost the spark, making her an exciting prospect for 'careful' production. Within six months Lexy was jumping 1m05, and her progress gave the young Miss Lacey confidence to take a second young horse under her wing. Black Dove entered the frame, intended as Emma's 'Badminton' horse.
A unbacked three year old 16.3hh British Warmblood, Dove was showing significant potential four months into her riding — before disaster struck and the mare provided Emma with a near fatal accident. Hospitalised with a broken neck (fractured C2), and out of the saddle for four months, most riders would be more than a little hesitant to re-mount. However, true to form, Emma was competing two days after the neck-brace came off.
During her period of recovery, Cameron Hanley (Irish International Show Jumper) successfully competed Lexy to 1m25. A very sweet and genuine mare, she didn't quite have the aptitude to excel as an eventer, and was sold in favour of Little Storm — a Chestnut 16hh Thoroughbred.
Storm was a rather hot tempered character, but taught her owner to be patient and wait for her readiness before pursuing the next level of training. Emma developed an interest in Dressage, and with help of friend Emma Roche and the team at TTT Trust, she was regularly schooling at unearthly hours in the morning before the yard got busy.
Sadly, Storm didn't really transpose her training into the dressage arena, and was sold-on to a girl wanting to enhance her 'feel'. Emma says, "I often think of Storm and the hours I spent in the school at Cranleigh, and realise how lucky I was to have good help and support. I love working with mares because of their little complexities and most of my feel came from Lexy, Dove and Storm".
After the accident, the realisation that 'life is short' had rather an impact, and Emma decided to spoil herself and buy a well schooled horse. A protracted series of events, including the purchase of a lorry that demonstrated a complete lack of brakes descending a hill in Petworth, caused her to view two horses advertised in Horse & Hound. Principally there to see a 16.2hh French Gelding, a 16.1hh Bay Mare in the neighbouring stable met Emma's gaze, and she knew that this was the horse for her. A week later Madame Blakeney made the trip from Bedfordshire to Cranleigh.
Emma Roche said, "I know someone who can help you with her, she knows a thing or two about jumping"; a few days later 'Taskerforce' entered the yard. Jill Tasker's first words to Emma were, "If you want to be a show jumper you'd better shorten your reins", and thus began 4 years of jumping competitively across the country, including Hickstead and the Scope BS Festival. Maddie II was a very careful jumper and Jill encouraged Emma to give her total freedom in the air, allowing the horse to give her best. Now happily jumping at a lower level with the Carlton family, Maddie is teaching young Ryan a thing or two.
'Horse can be viewed at Badminton', read the advertisement. Alvescot Paddington, was a mounted steward at the event, a statuesque 16.3hh Selle Français by Pouchka III. A week later Emma's poor old Bedford TK struggled to Oxfordshire to collect him from Lady Bridget Silso, on the understanding that he was 'a little difficult in front of a fence and kicked hell out of the lorry'. Both were lamentable understatements.
With the help of Jill; "hold the reins at the buckle and keep coming", and Alex 'Super Groom' Collins; who spent many a happy hour in the back of the lorry, both issues were resolved. Paddington became the most genuine, kind, and graceful horse that a woman could ask for. In a single season he jumped four double clears in British Novice, four in Discovery, and two in Newcomers. He didn't win much money; turning tight wasn't really his bag, but proved himself a delight to ride and watch.
Paddington went to a family from Cranleigh School for two years, and has since been outgrown and welcomed back to Emma's stables. Last year, he won three classes at Pony Club Area Dressage and went to the Championships; foot perfect at every stride. He is currently on loan with a local family, who are looking forward to taking him to the Nationals again.
"I love Suffolk, it's just home for me. I am very fortunate to have close friends and family around, the majority if whom have known me since the days of Magic and Mary. Waveney Harriers Pony Club is very important to me; the help and encouragement I have received throughout the years are the foundation of my career and knowledge as a rider, and I hope to provide youngsters there with the same dedication that was shown to me."
You may have seen her over 2009,2010 on Ivano II 'Johnny', the very striking chestnut gelding with whom she competed in Show Jumping and Working Hunter. 'Johnny' has found a lovely new home where he is being campaigned at a lower level at Dressage and Showing and hopefully will have many happy years to come.
In February 2011 Emma purchased 'Robbie the Robster' and will be out and about the county show circuit in Show Jumping and Working Hunter. Robbie is even bigger than Johnny (if that was possible!) and since owning two 17hh + horses Emma has decided that this is a trend to follow... "It makes the jumps look smaller" she says.
In December 2011 Emma applied and was successful at interview to become the Sanctuary Farms Manager for Redwings Horse Sanctuary which so far is a career highlight and a great responsibility. Emma oversees the care standards of all of the permanent equine residents at Redwings. These total over 1200 including donkeys and mules, so it's a big challenge! Emma is so passionate about horse care and places value on every horse, be it a top class competition horse or a geriatric Shetland. She feels they all deserve the same level of care and affection and it is her role from 8am to 4pm to make sure that happens throughout the Sanctuary.
In January 2012 Emma was approached to coach the equestrian team for Ipswich High School for Girls and due to her experience with Cranleigh School and subsequent success she was thrilled! She hopes to build on her previous successes and is really looking forward to working with a close knit group of girls.
After a hugely Successful 2012 Winning the Hadleigh Show Working Hunter, Suffolk Show Open and Novice Working Hunter and being palaced in Novice and Open All over the country with Ludat and Robbie; In 2013 Emma focused her attentions to Hazevern Freddie Mercury who went on to compete at national 1.30m level and has been sold to the midlands as a hunter.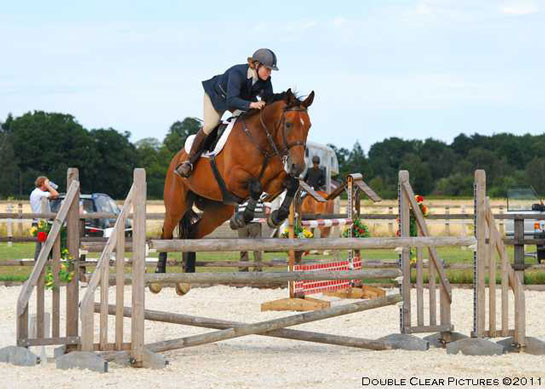 In late 2013 Emma moved to Burgh St Margaret on the Norfolk Broads and has continued to develop her coaching with riders all over the county and further afield, whilst continuing her career at Redwings as Sanctuary Farms Manager. Emma has had several trips to Ireland to purchase young horses to produce, Loughnavatta Quartz and Johnstownbridge Ludo are both by Luidam and have had success both in the SJ arena and on the hunting field.
Emma worked at Redwings until 2016 where the birth of her son, Valentine, gave her the opportunity to focus on private work, coaching, riding and consulting around being a mum and since then Emma has been working with riders throughout East Anglia and further afield to gain the best from their partnerships.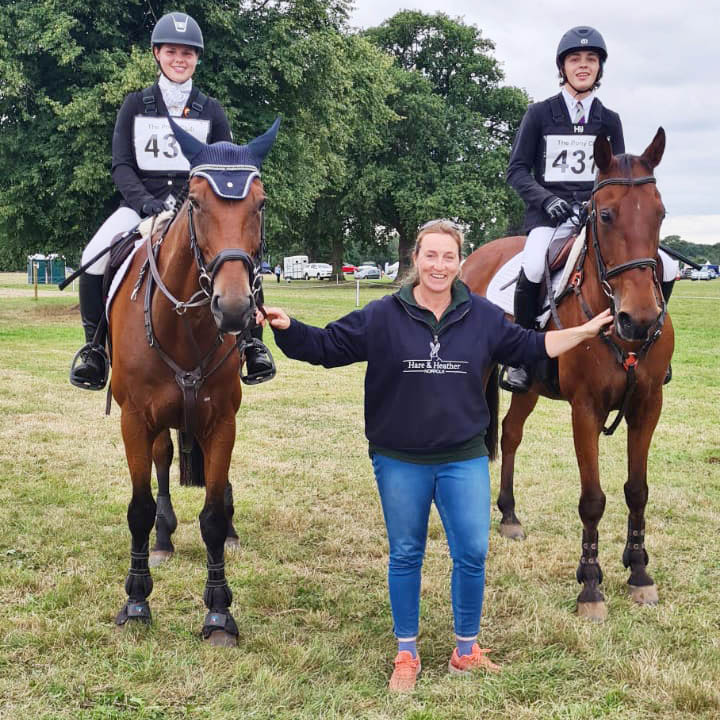 Working within clinics, freelance and competition days with the riders. Emma has achieved team success with Waveney Harriers at Area and National level, the South Norfolk PC have help from Emma with their dressage teams and individuals and Eventers from across the region benefit from Emma's focused attention.
In 2019 Emma had her daughter Anastasia and she is following in her son Valentine's footsteps by starting their equestrian journey on Toffee a very well oiled child's first pony, borrowed on long term assignment from Geoff and Paula Block.
Since 2019 Emma has further developed her consultancy business helping companies and charities make the most of their resources working the equestrian industry. It's been a highly rewarding experience working together with well known brands, those wishing to enter the equestrian sector and established business and charities.
Emma has two horses of her own to compete, Homeros VD Doorndonkhoeve (Bruno) and Riverman HF (Bentley).
Having a family and running businesses doesn't leave a lot of time for competitive riding, however when time allows Emma can be found competing in British Showjumping and Dressage and has hugely enjoyed the challenge of bringing on her young horse Bentley (who is an enormous 18.2) around her busy life.
For more frequent updates please follow Emma's social media accounts above.