A new section for the site, Emma wanted to publish the latest news on the blossoming careers of her pupils and clients.
If you have any news that you think Emma would like on the site, please email the text and any pictures to news@emmalacey.co.uk.
January 2017
I've been working throughout East Anglia on a freelance basis, private coaching, short, medium and longer term contracts for yard consulting and riding out for various individuals and yards. See Facebook for further news!
Also, did you know...? I am an ardent follower of National Hunt racing and have many wins and predictions under my belt, I have even been fortunate enough to do some amateur punditry! I'm very happy to do more...!
January 2015
We've had a great Autumn and Winter with both my horses and IHS for Girls.
Loughnavatta Quartz and I qualified for Blue Chip Winter SJ Championships, Scope and also went to the National Hunter Championships. We had a great time with friends Katrina a Fiona Hirst and we picked up a 5th in the Restricted Open. Quartz has had a great first season as a working hunter and we are very much looking forwards to the season 2015! IHS Girls are primed and ready for the 201 season, ending 2014 in style with a win, a third and a fourth at The Jays. We also had some individual placings which was great!
I've made a little appearance for Redwings on Horse and Country TV, see below! This adds to my now 'glittering' career on-screen which include Dick and Dom Go Wild and Flog It!
I have been over to Ireland twice in 2014 and the second time came home with a lovely gelding by Luidam. Louie (not to be confused with Louis!) is 17hh bay gelding. His dam is Coevers Royale by Cavalier Royale so I hope he can jump!! It's my intention to have him as a back up to Quartz in the 2015 season, but you know horses - that may not go to plan.
On a Saturday morning I am lucky enough to be holding regular SJ clinics for riders at Carr Farm. Even though I've been coaching riders for 20 years I still love it and really relish seeing horses and riders continue to develop and improve. Keep it up everyone!!
Wishing a happy and successful new year to all!

---
Spring 2014
Training of horses and riders has been ongoing over the winter and since October 2013 Ipswich High Schools for Girls have had an incredibly successful competition campaign.
We really have such strength in depth now with riders from grassroots 40cm to the older 6th form girls at the 1.10m level.
Some particular highlights have been many wins in the 70cm classes with the 70cm and 80cm teams going to the NSEA mini Championships at Bury Farm in Buckinghamshire in March.
We also have had huge success in qualifying for all JWS arena evening championships with wins at Norton Heath with three out of four wins! We will be contesting the finals at Addington in October in 70cm, 80cm, 90cm and 1m classes. I'm very proud of the girls and the parents for their dedication too. The girls also beat off masses of other teams at Norton Heath New hall SJ to win the 80cm class with strong performances throughout.
Over the winter I was lucky enough to qualify for the Blue Chip winter British Showjumping Championships held at Hartbury College in Gloucestershire with my horse Loughnavatta Quartz. We contested the championships and since then have also qualified for the Scope summer SJ finals which we will attend in late summer.
One of the perks of the NSEA competitions is seeing my friend Chris Allison from my Cranleigh days as she is working with Sophie with the equestrian teams there. It's hard to believe that her daughters Chloe and Hattie who were once so tiny are at or about to go to university! Many happy days were spent, especially on Cracker at the school who gave so many children the best start.
Quartz and I have also been busy with our first group of working hunter shows and I am thrilled with his results. We have been to the South Suffolk Show, which was incredibly wet and windy for his first SHB (GB) Open WH class. He jumped a fantastic round for 4 faults and came 3rd, qualifying for the Royal International Horse Show at Hickstead in July – all in his first attempt! We then went on to the Norfolk Festival of Showing at Houghton International where Quartz was once again a superstar! We came home with a 2nd in the SHB (GB) novice and Open, with another RIHS ticket!
What a clever chap. We didn't have quite such good luck at the Suffolk Show with a few poles getting in our way but nevertheless he did not mind the goat show or the go-carts at the side of the ring.
We will spend a few weeks now just showjumping to polish (me) up before going back out on the working hunter scene. Contesting the WH classes really is such fun and the standard of riding really is high – if you're ever at a county show be sure to pay the ring a visit.
I've had contact from Liz who owns Johnny – the big orange and as you can see from the pictures he is looking fantastic for a late teenager! Well done Liz and thank you for looking after him so well!
As you'll know I do love to continue to learn and I have recently studies a short course on how great philosophers help in management. I have thoroughly enjoyed this and will continue to help yard managers lead their staff for the best outcome for the horses. This work has also been helpful with my tutoring of clients who are going through interviews and exams. Remember – I can help you what ever form of interview you may be about to undertake – not just a horsey one!!
May has been very hectic with so many NSEA competitions with IHS for Girls and my own competitions but I found time to help Broads Equestrian Centre by judging some dressage. A hugely enjoyable day and something I hope to repeat. We also held the annual Redwings Show at Topthorn EC which had a huge attendance and once again thank you to Nigel for having us.
Some of you may know that my Mum, Shelagh, recently had a hip replacement and has been confined to barracks! Thankfully she is up and out and will hopefully be able to come along to shows, she has really missed watching Quartz and his development and we hope soon she'll be at the ringside again.

---
November 2013
Two huge events have happened in the latter part of 2013. I lost my dear Robbie, my horse of a lifetime. Sadly his injury was not stable and was degenerating at a faster rate than it was healing. After 18 months of rest he was starting to struggle to rise from rolling and even on increased medication he was still struggling. I will always miss him but know he had a peaceful end. Thank you to Chaplefield Vets, Friends Nicola, Anna and Kathryn and Nicola Jarvis. All of them were there for us at the end of our time together.
Also in September I moved to Norfolk and so am able to provide training in the east/north east of the county.
Although the move sees me further away from IHS for Girls, I will continue to provide training for them and recently gave a well attended training session by the kind permission of the Eddis family. We subsequently went to Keysoe in Bedfordshire for JWS where we had a great day with many riders producing clear rounds. The 70cm team came a fantastic 4th, with many of the riders having their first trip out wearing the IHS colours! The 80cm team were 6th with beautiful clears again. In the 90cm we had a 7th result with only 3 members, Susie Eddis riding an exemplary clear round. We also had two competitors in the Dressage. Lucy Stammers made her IHS debut and we hope to see her out again and Susie Eddis became county dressage champion riding Peter Pan. Such an edibley adorable combination event he judges couldn't resist!
Please see my updated training and rates page for a summery of my current services.
Hazevern Freddie Mercury had a happy debut season and has returned to the Block family to hunt and showjump and Three Times a Lady (Trinity) has entered the stable with the hope of contesting Novice classes next spring.
Peggy Sofley Massage Training:
Group sessions to be arranged for teaching you how to massage and stretch your horse, especially good for winter evenings when riding is out of the question! Please indicate your interest on the form (click to download) and we will be in contact with possible dates.
June 2013
Having just about survived the winter of 2012/13 we are up and running with the 2013 season. We have been to South Suffolk, Windsor, Houghton, Hadleigh and The Jays so far having placings throughout. No wins yet, but lets keep our fingers crossed!
Hazevern Freddie Mercury, owned by my friends the Block family has had his eyes opened to the country circuit. This year he has picked up some placings, most notably 3rd at Houghton and this year he is just learning for his future career.
IHS for Girls had the start of their season curtailed due to the weather but we have been out to Windsor where we put in a good performance with some new combinations coming 10th. We will be at Norton Heath and hopefully Hickstead in the next few months.
Sadly we said goodbye to Gus, owned by Nicola Markwell. Gus had a happy retirement but he recently had difficulty getting up and so we did what we can for him and said goodbye. Gus was cheeky to the end, trying to open his door if given half a chance.
Robbie is still recovering from his injury sustained towards the end of 2012. We can just hope that one day he'll be back out and about bounding over the fences like he loves to do.
Meanwhile Louis aka Ludat my lovely bay gelding by Luidam came 3rd in the RIHS Open Working Hunter at the Suffolk Show. He's qualified fir the final at Hickstead in August. He really gave me a lovely flowing round and went very sweetly for the judge.
We'll next be out and about at the Norfolk Show.
---
November
I attended the BS National Coaches conference where we shared experience with the Team GB's Gold Medal winning coaches and start program trainers. We also combined the day with GB Rowing and it was great to lean how other sports achieve success.
IHS for Girls team and I went to The Jays where the team of Rowena Wilson-Smith, Tabitha Wilson-Smith, Mille Butters and Gabby Sumner came 1st in their 70cm team! Well done to them! We also had a 3rd with the 80m team of Lucy Eddis, Mille Butters, Tabitha Wilson Smith and Gabby Sumner
Jemima Wilson-Smith came 6th on Red in the 90cm and she was so very stylish!
October
In early October I accompanied my great childhood pony club friend Vanessa Allen to Michael Bell's yard www.michaelbellracing.com to ride out racehorses on Newmarket gallops.
It was a truly amazing experience and one I would love to repeat. I was given a beautiful colt Santo Prince to gallop twice. The first time a light run up the hill and the second time I was asked to let him go into a fast gallop and let him try up the hill.
It was such a great feeling and having ridden since I was two and a half finding further exciting things to do with horses was thrilling. I really was smiling all day and the feeling of the horse galloping underneath me is one I will not forget.
In the last week of October IHS Girls and I went to the National Schools Championships at Addington Manor. Daisy Pitt came home with a brilliant 7th place in her final!! Well done to her.
The girls all rode with great style and all learnt a lot ready for next year!
Well done to Amy Oliver Squires, Georgia Cattermole, Laura Amies and Francesca Flinton for gaining their NAF Pony 5* award through BS. If anyone else would be interested in doing these or the Horse 5* awards let me know.

September
Both of the horses will be having a break now until Christmas, we'll be hunting out with the Waveney Harriers when time allows and catching up with other jobs at home. The 'Green Goddess' lorry is breathing a sigh of relief as she has done hundreds of miles this year.
IHS Girls will be training hard as in October we have the NSEA Championships. We have several teams qualified in JWS and SJ so we will be trying very hard to add more good results to our brilliant season so far. IHS Girls finished County Champions - what a great achievement for our first competitive season!
August
Another disappointment as the Wayland Show was cancelled last minute due to a sewerage problem which was disappointing for us as Louis and I had qualified for the East Anglian WH final, which we were un able to contest.
In August Louis, Mum and I had a very hectic weekend to finish our show season with a trip to Lincolnshire for the BSPS Championships. The course was very difficult and Louis tried so hard for me, coming home with 12 faults. The winner of the class was the only clear round and it was a dream to watch, the other placing were 8 faulters which is almost unheard of.
We had a day off and then headed off to the Edenbridge and Oxstead show in Surrey. My dear mum was groom for both of the August shows; we have a good arrangement where I have to giver her an hour head start to walk to the ring and the horses and I catch up later!
Louis was fabulous and with an entry of around 40 horses I was thrilled with his 6th place. He jumped so well during the round it has proven that he is now established at that level and has gone from jumping unaffiliated Novice to clears and placing in SHGB Opens in 18 months.
July
In July I headed off to Milton College Cambridge shire to a standard setting day for NAF 5* pony awards. It was good to update my knowledge and catch up with fellow coaches, Tamsin, Mia and Annette. The NAF 5* pony award is essential at 2* level for riders wishing to do Home Pony International competitions and also great to confirm knowledge and riders get lots of goodies too!
We had the Area Teams SJ in which Robbie and I represented Suffolk, although our team did not qualify the other Suffolk team won and qualified for Scope Festival. At Scope the Suffolk team won the overall competition - amazingly well done to them!
We had a few disappointments and the flooding at home preventing Mum Louis and I not being able to go to the East of England Show. We spent the day bailing out the house and hoping for sun!
For the first time in several years I attended Waveney Harriers Pony Club camp and had a great week coaching very enthusiastic riders with their lovely horses. The weather was hot and it made a change from the hideous rain we had previously this month!
The other amazing event in July was the chance to attend the XC day of the Olympic Eventing! What a fabulous time and I can only be nothing other than positive for the organization, the course the security etc! Well done to team GB for the silver and also posting amazing Gold medal wins in the SJ and Dressage - writing now I still cannot believe how well the equestrian arm of Team GB have done this year. Thanks must go to Susie Peel and family for inviting me along with them for the day.
A team of Maisie Peel, Lucy Eddis, Kate McLeod Scott and Daisy Pitt Ipswich High School for Girls travelled to Hickstead for the National Schools Competition. They put in an amazing effort and posted clear rounds in the outside ring qualifying them for the main international arena! The girls were unfazed by the huge arena an came 4th over all in this hotly contested competition! Very very well done to them!
June
June was an amazing month for me and my horses with a double win at the Suffolk Show and Robbie getting his ticket for the Royal International Horse Show.
Robbie won the Open Working Hunter by jumping the only clear round out of an entry of 25 in the pouring rain and deep mud! Robbie simply floated round the course and made light of the tricky and trappy fences including some spooky cut out sheep!
Louis jumped a super round in the open, but he had his moment winning the Novice in fine style and giving the judge a beautiful balanced ride. Zip also jumped a great round in the novice and received a lovely comment from the judge.
I was so very proud of my beautiful horses that day, they really tried hard I couldn't have been happier! We were however totally drenched by the end of the day and thanks go to Supergroom Lucy Edwards for her help.
Also In June we had the Norfolk Show and we took both horses to do the Working Hunter in the light horse ring. We had a great local crowed supporting us local riders and congratulations to local horse dealer and producer Susan Cox for a home win on 'Bill'. Off to HOYS they will go! Louis and Robbie both jumped well and I took Louis through to the second phase with him coming 5th.
May 2012
May has been a very busy month so far. It started with a brilliant 4th place for IHS for Girls at Windsor! So so very pleased and proud of the team, Maisie Peel, Ellie Peel, Kate McLeod Scott and Rowena Wilson-Smith. All of the girls jumped perfect clear rounds and if there was an award for style and team unity we would have won it! Well done girls - you made all the training come together and made me very proud.
The day after Windsor saw me head off to the South Suffolk Show with Lucy Edwards being super groom for the day. This was one of my most successful shows ever being placed in every class and giving a new horse his first trip out. Ziprotlet G is owned by the Mitchell family from Benacre and he is being aimed at Novice Working Hunter county classes and Small Hunter classes. At the South Suffolk 'Zip' secured a 5th in the Novice Working Hunter which we were all thrilled about!
Also Louis jumped a fantastic clear in the Open RIHS Working Hunter and came 6th. Robbie was on form and loved the big open ring, coming 2nd in the 1.10m SJ and this class was made better by Louis coming 3rd too! Robbie also came 3rd in the 1.20m SJ and really gave me a brilliant ride.
My Mum, Shelagh Lacey and her companion Keith Kerry are enjoying the shows very much this year, and I know Mum really loved the successes of the South Suffolk.
We then went to Hadleigh Show, once again with Lisa Cornish grooming. Another fabulous and successful day!! 'Zip' Jumped a beautiful round in the Working Hunter, just tipping a pole by the gate, be his owners and I were thrilled that he coped with the atmosphere and did not worry about the brass band, hound parade or ferris wheel!

Louis excelled himself and won the Working Hunter and gave a beautiful clear round and also a fabulous ride for the judge. He really was exceptional that day - what a honour to ride this horse.
Robbie also jumped well in the main arena with Keith Kerry and Mum watching on armed with the cam-corder. Louis showed how rock steady he is - whilst in the Grand Parade he stood next to cows, sheep goats and donkeys!
On the same day the IHS for Girls team were out at The Jays with a great result for Lucy Eddis, Ellie Peel, Maisie Peel and Kate McLeod-Scott who won the 1m SJ and qualified for the National Championships! Fantastic result!
April 2012
Both of my horses Ludat and Robbie the Robster have started the outdoor SJ and Working Hunter season well - both jumping fantastic clears at Four Winds in Surrey with Louis being taken through to the ride and coming 6th. What a fantastic day! Thank you to Lisa Cornish for being groom for the day too.
We also had great day out at The Jays - Louis and Robbie jumping very well. It's so busy there these days it's like and international competition!
I have heard from the owner of 'Little Storm' - she has now owned her for 9 years since I sold her before moving to Suffolk and have had many happy times with her. I'm so pleased for Storm and Charlotte what a lovely story and long term partnership.
March 2012
Brilliant start to the eventing season at Poplar and Blackwater Farm, Bo Jackson and Laura Amies enjoying their first runs of the season. All clean slates in the show-jumping which I'm very happy about!
IHS for Girls have become the Suffolk School Champions - brilliant times at the Jays with lots of placing and happy faces.
December 2011

Well done to Megan and Belle - they've made great improvements to their showjumping and this resulted in their 3rd placing at The Jays.
Great work Megan - keep it up!
I'm thrilled to be associated with Ipswich High School for Girls.
September 2011
Well done to clients whom qualified for Burghley. We had a fantastic day… if a little wet!
In the Mountain and Moorland Event Pony Isabella Regis and Woody put in a fantastic dressage performance and jumped clear in both jumping phases to come an overall 3rd against a class mostly filled with adults.
What was also thrilling was 'Bella took part in the Ring Two Championship which I watched last year but it was fantastic to have someone in it this year. Well done Bella!
Also Otillie Mitchell qualified and competed in the Event Pony class which was thrilling.
Otillie has been incredibly diligent this summer and with the support of her parents has produced 'Rocky' into a fantastic pony to jump a clear round a Burghley. Well done Ottie and Family - he's a credit to you.

Anna D'Ath and her two horses Hayley and Will have had a good time. Hayley qualified for the Trailblazers Final in Preliminary Dressage and had a fantastic time..even little Finley went along too! They were also Second in the GWC league over the Summer. Will qualified and competed at Equi Fest and come home with a good few placing and a Championship! This is a fantastic result as Anna has been working with her all summer on fitness and way of going.


Bo Jackson and Indie Rock have had a fantastic time eventing and also won both the Junior Newcomers and Foxhunter at the Aylsham Show. Well done you two - no cross county faults this year!



Laura Amies and King have not only been placed in their very first British Showjumping competition but they have completed their first PC team One Day Event too. Well done Laura.


Sally Bircham and Jimmy's Friend have had a great season culminating in competing at the Royal London Show. Sally has not done a huge amount of showing before but they have worked hard all season to be placed at this show. Well done Sally, next season we are aiming for the working cob classes.
Condolences to The Peel family and also the Dashwoods. Shady Curtis (pictured in May news) was sadly injured and the vet could sadly do nothing to repair her. This was an incredibly sad loss, not only because she was a first class competition horse - one season jumped seven double clears and one treble clear at area level in a row, but Shady was a very willing and kind mare whom was no trouble and always applied herself.
I had much involvement with Shady over four years and it is with much sadness to know that her talents and personality will now be missing.
My horse Robbie the Robster has had a brilliant season and I feel very happy to have such a willing horse who just loves to jump. He qualified for Scope 1.20m, and three lots of Amateur classes to 1.20m. He has also been placed very well and in newcomers and fox hunter classes. The highlight was at Aylsham where he came 2nd in the Foxhunter.
I'm also thrilled to have the ride on Emma Forsters 'Ludat'. Louis, as he is also known, has had a brilliant two months. He has jumped clear and been placed in all but his first British Showjumping classes and is now nearly qualified for his second rounds. He also came reserve working hunter champion at the Wayland Show and qualified for Equi Fest on the same day in the Hunter flat class. What a fantastic horse and we will be looking forwards to some indoor Working Hunter classes over the winter to prepare him for Opens in the Spring.
I would love to hear from more owners who would be interested in having their horse professionally cared for and competed. We specialise in Show Jumping and Working Hunter but I also have clients who do dressage and flat showing and Eventing. As a rider and instructor who has been examined and approved at the highest level in all three phases I can guarantee you will be thrilled with the success of you horse.
I also have the luxury of a very correct and stylish lightweight work rider Lucy Edwards whom helps me at home and grooms at some competitions. Through me Lucy is available to school show/working hunter ponies, intermediates and will be very pleased to ride in the ring for clients.
July 2011
George a success story
I sold George three years ago, and when his owner contacted me to say he'd been outgrown I matched him with Annabel - and his new family ...
"Finding the ideal pony can be very stressful, however we were lucky that we were made aware of the horse match service provided by Emma. This proved extremely successful, and Annabel and George were matched. Annabel clicked with George straightaway, and he is the most gorgeous pony with a fabulous personality. Only after three weeks, he was competing with Annabel and they are both looking forward to pony camp in a couple of weeks. Even Mum can enjoy the odd hack fantastic!!!"

June 2011
Burghley Bound!
Ottie Mitchell on Rocky, Bella Regis are off to Burghley after recently qualifying for the Event Pony finals! What and achievement, especially for Ottie as she has educated her pony herself (with a little help from older sister Arabella) and has recently stepped up a gear to this level! Good luck girls! I will be there on the day helping and crossing fingers for you!
Good Luck Sally!
Sally Birchham and her horse 'Jimmy' are off to the Norfolk show as part of the team of three..good luck Sally and have an enjoyable day.
Dressage Diva!
Anna De'Ath and her horse Helle Bop Love have had a brilliant season so far picking up many dressage scores over 60% and qualifying for the Trailblazers Final at Stoneleigh. Anna knows that with a little persuasion from me she will be contesting some Novice tests soon and hopefully picking up some successes there too. Anna did remind me that she initially wanted Show Jumping lessons but I went of on a bit of a tangent... Sorry Anna, but you are doing well!
May 2011
Suffolk Show Success!
Well done to Bella Regis, (Pictured) Lexi Regis, Zara Lye and Tessa Lye. All of these talented little girls came home with a rosette and Lexi came home with a reserve championship too.

Well done to Ellie Peel (pictured above, left), Maisie Peel (pictured above, right) and Bo Jackson, all putting in sterling performances for St Felix School at the NSEA Jumping with Style show at Easton College - they've qualified for the finals.
March 2011
Indie Rock continues to be a legend. Recently Indie and Bo Jackson completed three double clears in a row including a 2nd placing at BE100 U18 level. Also Bo and Indie were in the Lowestoft Journal with a very smart photo on the sports page.
January 2011
Did you know that Emma recently appeared on the CBBC program 'Dick and Dom go Wild' ? Watch out for repeats at tea time on BBC 2 and also in August for the second in the series!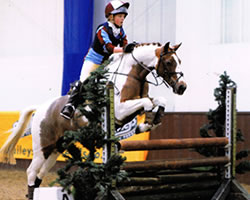 Jumping with Style ...
Lexi Regis competed at the NSEA Jumping With Style Championships, and took a very respectable 9th place — congratulations!
As you can see from this photograph ... she was indeed very stylish.
September 2010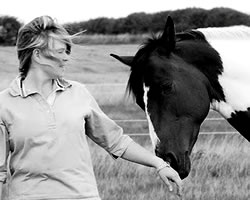 Jane & Tilly - a perfect match
Jane Fuller has made remarkable progress with her lovely new mare Tilly (formerly called Tosca), only a few weeks after I matched horse with rider.
Following a little advice from me, Tilly now happily walks, trots and canters on both reins and Jane feels safe in the saddle. — much to Jane's delight and the amazement of her husband.
They hack out with other horses and Tilly isn't bothered by traffic, dogs or tractors and behaves well in open fields.
I'm so pleased for them both!
July & August 2010
Break a leg!
Best of luck to the British Showjumping Area 29 Team on Saturday 14 August, at Norton Heath. All other riders interested in joining the fun and becoming a pony team member should give me a call — or have a chat next time you see me in the saddle.
Living Legend
Indie Rock has maintained his legendary status, carrying a very proud Bo Jackson to a treble clear at the Pony Club Area Show Jumping. Just brilliant.
What a Cracker!
Chloe Stewart and her top class pony Cracker jumped a fabulous double clear in the intermediate section at the Area Horse Trials. The course was very testing and not for the faint hearted, making the achievement that much more impressive. Well done.
May & June 2010
Royal Performance!
Congratulations to Lexi Regis for winning at the Suffolk Show and qualifying for the Royal International Horse Show! Quite an achievement at 8 years of age.
Thank You
Thanks to everybody who supported the Redwings Show at Easton College in May – see you all again next year!
A Big Hand
Marie Green deserves huge applause for helping me at the county shows. No matter how we perform in the arena, we'll always be best in class for 'Biggest Mount & Smallest Groom'.
Back in the Saddle
Following the birth of lovely Finley, Anna De'Ath is back in jodhpurs and aiming for the Novice Working Hunter at the Suffolk Show next year. No turning back now!
Congratulations!
Max Avery has arrived! Sophie Stubbs has brought a beautiful boy into the world, and will no doubt be itching to steal Orca back from me. How will she cope with all these men in her life!
Paddington
I recently received an email from Alvescot Paddington's lady. Those of you that know him will be pleased to hear that he's in fine fettle; happily hacking around the lanes and thoroughly enjoying a low–key lifestyle.
"... and the winner for best actress goes to ..."
Some of you may know that I take acting classes (with all of that spare time ...) and will be performing in a Showcase at the Seagull Theatre (Lowestoft) on Wednesday 9th June. Do come along and help settle my nerves.
March & April 2010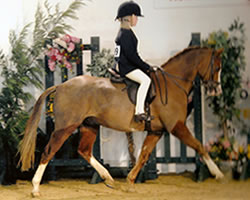 Zara Lye & Mr C
Zara Lye and Mr C qualified for the BSPS winter championships — don't they look smart!
Zara came in the top ten and qualified for the evening championships, a great achievement, well done Zara.
Dressage Winner!
Competitive Mum, Heidi Dashwood, has done really well recently — winning and coming fifth at the Beccles & Bungay Riding Club day. Congratulations Heidi, well deserved.
Get well soon ...
Carolyn Hytch and Daisy had a little tumble recently, but hopefully they'll dust themselves off and will be up and running again soon.
Sophie's Boy
Orca and I have had two little outings to Humberstone Farm Dressage, improving all the time. In his last test he scored 66% and his owner Sophie (who is expecting) was very pleased to see such positive improvement.
Double Clear
Rachel Durrant and Isla had a great start to the season; a double clear at Popular Park!
Well Done!
Bo Jackson and Indie Rock qualified for the 1.10m scope finals and also came 2nd in the 3'6" XC at Geldeston. Well done you two.
Warming Up
Johnny and I had a warm up for the county shows recently at Woodbridge, coming 5th in the Working Hunter.
February 2010
Lexi Regis
An outstanding performance at the recent BSPS show where she won no less than 5 classes!
Carolyn Hytch
Carolyn and her mare Navarro Sunrise Daisy have taken the leap and joined the BS. It's proved a good move, as she has won a British Novice already and has a double clear at Discovery! Well done both of you!
Ryan Carlton & Rachel Durrant
Good Luck to Ryan and Rachel who will be contesting the Dengie Regional Dressage at Lordsbridge on the 6th March. Both riders and their horses Kahn and Isla have been working really hard to try and achieve a good mark and hopefully a win!
Zara Lye
Another young rider has had an exceptional show day. Zara Lye and her beautiful pony Mr C won at the recent BSPS show at Easton College, also scooping the Reserve Champion placing. Well done Zara, all that schooling is paying off!
Penny Aimes
Penny has bravely taken to the saddle, riding her daughter's pony, King of the Ring. Well done Penny, you're a star!
Congratulations!
Baby Finley has joined the troops at the De'Ath household - let's hope he likes riding, as I'm sure he'll have the pick of their lovely ponies! (I wonder if he has had a sit on Crystal yet?)
Thank You
Thanks to Di Lampard for two fantastic training days at Easton College on the 22nd and 23rd of February. Johnny and I had great fun and hopefully improved through the session.
January 2010
Congratulations!
Bella Regis and Teddy qualified for the BSA Winter Championships in the Ridden Mountain & Moorland Working Hunter Pony.
Well done Bella ... good luck!
Emma's in the EDP Norfolk Equestrian ... click here and turn to page 46 to read the full article.